This was originally written for
Allume's
"31 Days to a Better Writer" Challenge. Part of that is to link up today with a post from the past month. I haven't been blogging that long, so I took something from there that you've never read. It also keeps with my theme of Word Wednesdays. Books are the well from which writers draw words and stay refreshed. Need some refreshing? Grab a book: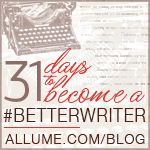 Reading a book is something that you don't have to remind me to do. Finishing a book is a completely different story, pun intended! Admittedly, most books I read are not quick read page turners. Right now I'm working on several: One Thousand Gifts by Ann Voskamp, Bonhoeffer by Eric Metaxas, Very Valentine by Adriana Trigiani, and Mere Christianity by C.S. Lewis. One of the things is not like the others….. I also have 3 knitting reference books checked out from the library. Oh wait, how could I have forgotten? I finish at a minimum 3 kids' books per day reading to my son. That boy loves a book! I love that he loves books!
Picking a favorite book is a tough one for me. There are a couple I could name. For me it's more about favorite authors. I have several that are true favorites and for various reasons. I could read page upon page by Willa Cather describing a wheat field in the wind and sunlight. C.S. Lewis puts me in my place when I get too big for my britches and think I'm the least bit smart or understanding of God's marvelous ways. He has also taken me to other planets (did you know he wrote sci-fi first?) and to other worlds with rings and furniture.
Speaking of rings, Tolkein can draw me through hundreds and hundreds of pages with thirst for more when the last page is ended. Madeleine L'Engle was over my head in elementary school, but I tracked her down and then discovered she even had books for me as an adult. Who knew that Meg would grow up and have a daughter of her own? Then there's my homegirl, Adriana Trigiani. Basically this is the only contemporary fiction I read because I haven't found anything else I like. Kingsolver is a little preachy and a lot of the other stuff out there just isn't my style or is trashy. Adriana, though, can take me back to my mountains and my childhood with her Big Stone Gap books, or to New York City in the 40's, 50's, 60's, 70's, or 5 years ago. She settles you in and then turns the steering wheel straight toward a gasp and laugh you weren't expecting. I like that.
Maybe now you know a little more about me and where I run across these words I don't know. I'm a geeky dreamer who wishes I was waaaay more glamorous than I actually am. I'm also a thinker who is still trying to figure out exactly what I think. It all goes back to the fact that in many ways and about many things, Amy learns.